Chronic Disease Management (CDM)
Medical Card Application Info
Opening Hours
Monday – Thursday 8.00 AM – 5.30 PM
Friday 8.00 AM – 5.00 PM
Saturday 8.00 AM – 9.30 Emergency Clinic (For existing patiests only and when vaccination clinics are not taking place)
We appreciate our phone lines have been exceptionally busy and understand it can be difficult to get through. For routine enquiries it is best to contact the surgery between 11:30 and 2pm or 3:00 to 5pm when the lines are freer. We have introduced a queuing system this month and reports have shown this has vastly reduced the number of rejected calls due to the lines being busy. Thank you for your patients with this service
Make An Appointment
You can make an appointment for your doctor by calling reception (01 8339856).
Please book your appointment a few days in advance for non urgent items.
We also offer same day appointments.
Prescriptions
Order your repeat prescriptions via our online form.
Covid-19 / Flu
Learn more about our Covid-19 and Flu vacinations
Fees / Payments
Learn more our fees and how to pay online.
About Us
Fairview Medical Centre is located on Fairview Strand in Dublin 3. The GP surgery was established over 60 years ago by Dr John Lappin. It is conveniently located close to Dublin city centre and the surrounding suburbs of Marino, Clontarf and Drumcondra.
We are an experienced team of family doctors and nurses. We provide holistic and patient centred care to people of all ages and backgrounds.  We strive to provide excellent care for all physical and mental health needs of our patients. Fairview Medical Centre is now a practice comprising of 4 GPs, 2 GP registrars, 2 nurses and a phlebotomist. Our GPs are all registered with the Irish Medical Council and are members of the Irish College of General Practitioners (ICGP). Out reception staff will do their very best to help direct your queries. 
We are committed to ongoing training, regular attendance at meetings and attending conferences. Continuous medical education (CME) ensures we remain up to date with the latest medical teaching, understanding and procedures.
We are a training practice for doctors from the North eastern training scheme and Dublin Inner city training scheme for.
Our Services
We are a Multi-doctor and multi nurse practice. We also provide holistic care and we are a training practive.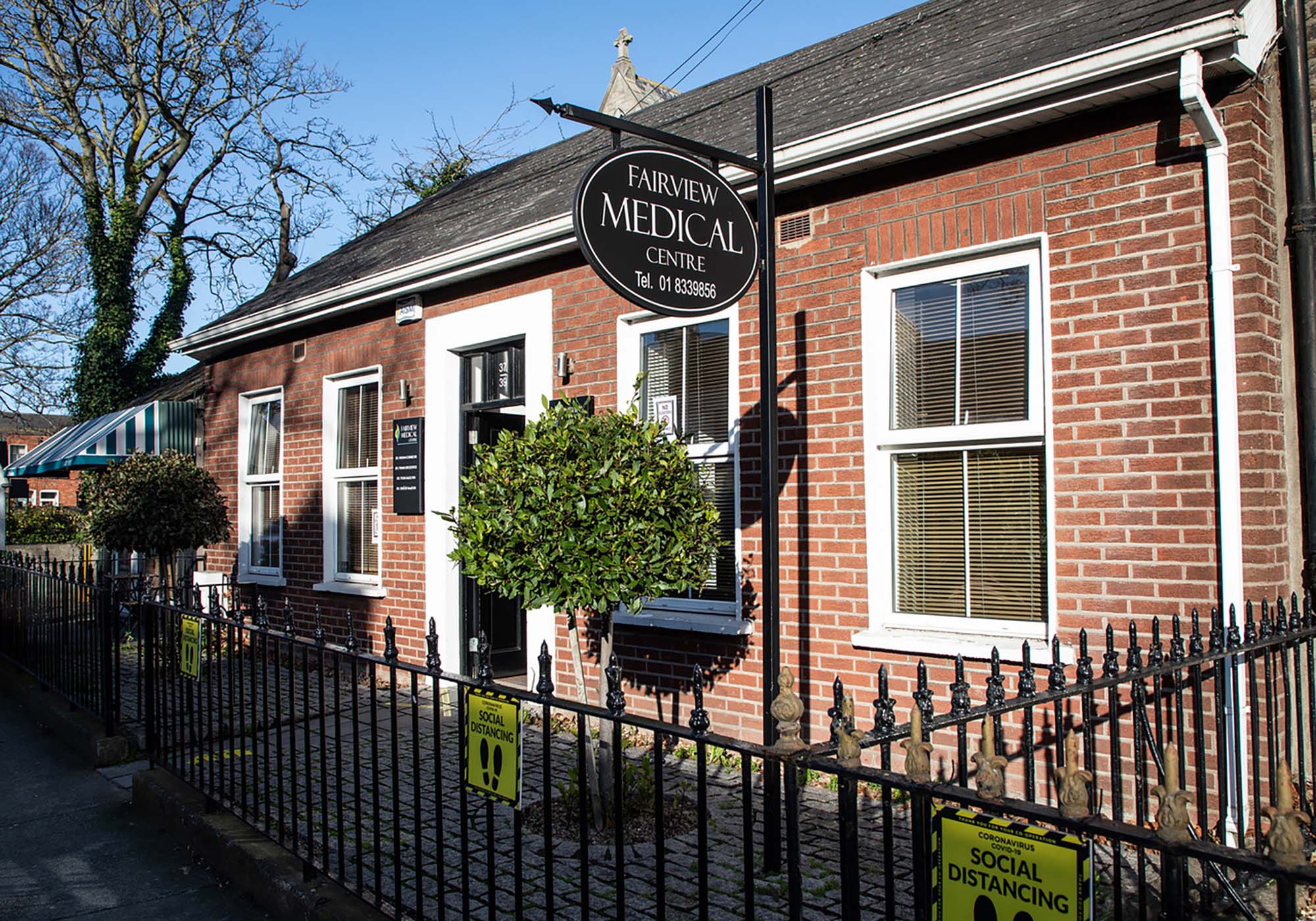 Please click here to familiarise yourself with the latest HSE Covid-19 guidelines before attending our clinic.
Location
37-39 Fairview Strand, Dublin 3, D03 F8C2 
Clinic Hours
Mon-Thurs: 8am – 5.30pm
Fri 8am – 5pm
Sat- 8am – 9.30am by Appointment as with all clinics during Covid